This 100-year-old building at 144 Main Street in Cold Spring, NY was built in 1908. Back in 2009 I purchased the building because I was the owner and publisher of the local weekly newspaper, The Putnam County News & Recorder, and we needed office space for our growing staff.
The first order of business was solving the water penetration problem in the basement.  Then we upgraded the heating and  electrical, central a/c, security cameras,  plus added new energy efficient roofing and siding.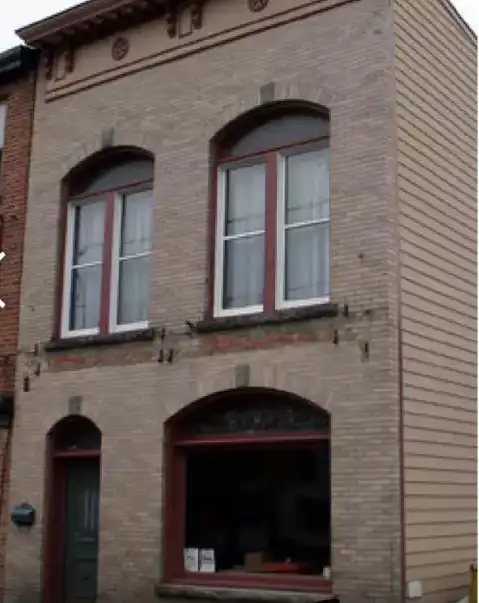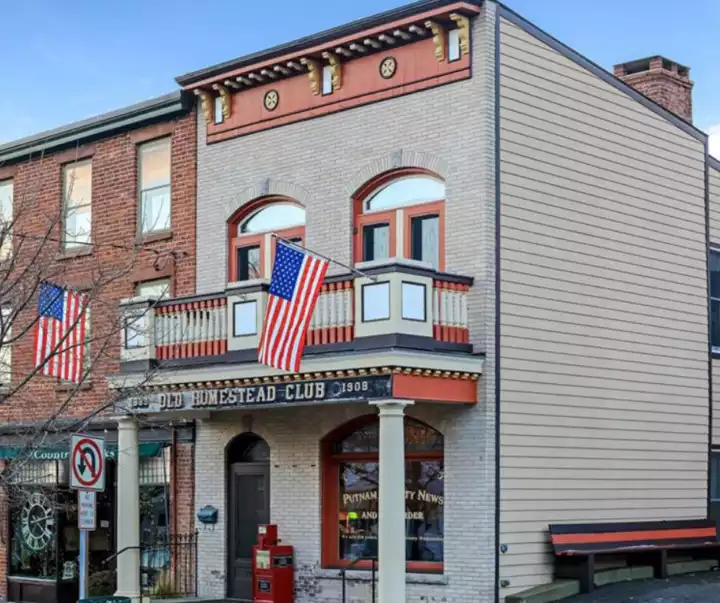 It is truly one-of-a-kind: a landmark building, in the heart of downtown Cold Spring, New York.
The building was originally called the  "Old Homestead Club" which was a gentlemen's gathering place at the turn of the century.
The original architectural details include tin ceilings, original wainscoting Douglas Fir floors, fireplace, & hand-hewn beams. The first floor offers a private office with a charming courtyard and garden, retail space with kitchenette, office space, and powder room.
The character of yesteryear meets 21st century technology.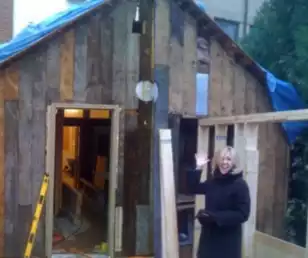 The photo above shows the structure's original timbers. In this section we found "insulation" in the rafters, which were newspapers from the 1890s! We donated the crumpled but still readable sheets to the Putnam County Historical Society. I am standing in what will eventually become my office.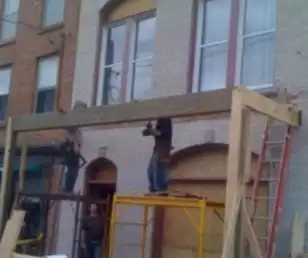 This is the front exterior as we set the new windows in place. The 2nd floor plywood inserts above the walkout windows will eventually receive custom stained glass to compliment the 100 year old stained glass on the first floor picture window.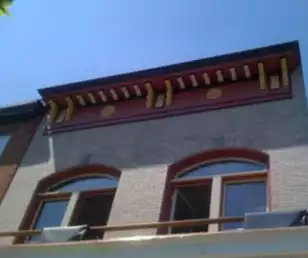 The corbels were painted in soft yellow on top of a terra cotta background. Other wood trim was painted a dark raisin. The terra cotta was selected to compliment the color of the brick on the neighboring building to the west and the firehouse to the east.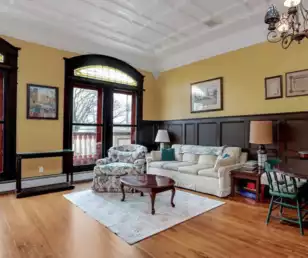 The second floor studio is accessed via the original oak staircase, and the new residential size elevator which I installed. French doors framed by stain-glass windows open to a restored balcony overlooking Main Street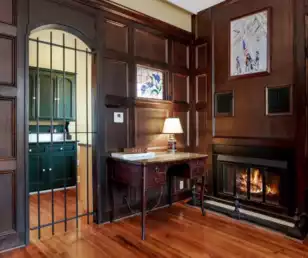 The wood panel walls and fireplace give this room a warm atmosphere.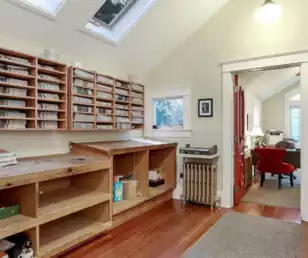 The abundance of natural light in this room made it a perfect choice for our work room.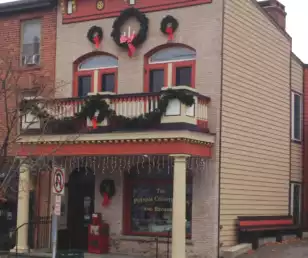 Decorating for Christmas and Thanksgiving was always so much fun!.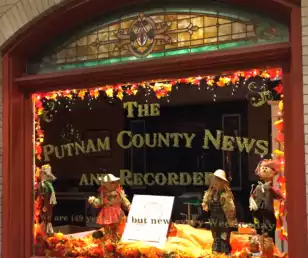 The year that the newspaper turned 144 years old, we moved into 144 Main Street, which you can see I lovingly restored.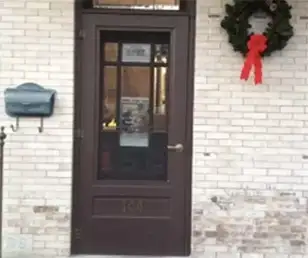 Many of the original elements were kept on the front door. It was was a warm welcome into a little piece of the building's history to anyone who came through that door.